The Brazilian fan
Andrea Martiny
went to Tokyo ONLY too see Ramin in "Prince of Broadway". And she wrote a special report to us! Read below:
"I'm not a theatre critic, just a huge fan of musicals and Ramin's. Said that, on a rainy Sunday afternoon, as I talked to a very good friend of mine, I decided I'd follow Ramin to Japan to see him performing in Prince of Broadway. It was simple as that. I had part of my annual leave at work to spend, so I started planning my trip right away. I was surprised to find out that the airline ticket fare was not expensive as I thought. In fact, I found a great deal that took me from Rio de Janeiro/Brazil to Tokyo through Houston for less than I usually pay for a NY trip. Never assume you can't go somewhere because of the price. Just check it. Air tickets secured, I've ordered my POB tickets online and booked a hotel in Shibuya, close to the theatre. The last thing on my list was to get a Visa, which is required for Brazilian citizens.
My friends kept asking me why wouldn't I wait until the show premieres in NY or London. That would be much easier then traveling 28 hours to the other side of the world. I have no doubt POB will indeed be a great success at Broadway and West End, but I'm not sure that Ramin's going to be on it. He seems the type that is always seeking for new challenges and I was dying to see him performing so many interesting roles at once. It seemed like the opportunity of a lifetime. So, my adventure began on POP's last week in Tokyo. I was able to secure on line tickets for 4 performances (Nov 18 to 21). Unfortunately, the final performance on Nov 22 was sold out on line. On the night before the final performance I was so frustrated because I needed to see it again. So I headed to the theatre on Sunday morning hoping to find someone who would sell a ticket. At the end, they had a few tickets left at the Ticket box (less than 20). They only sell these leftovers one hour before the actual performance. I can tell you that I feel blessed by the opportunity to have attended POB in Tokyo, especially on their last day. The report of POB that follows is an account of the 5 times I was there.
The descriptions of Ramin's renditions to some of the songs are just my point of view based on the emotions evoked during his performance, they do not necessarily reflect Ramin's vision for the characters. Tokyu Theatre Orb is an impressive venue with close to 2,000 seats, opened in 2012. It's located on the 11th to 15th floor of a shopping complex building in the heart of Shibuya (photo 1), just in front of the famous Shibuya scramble crossing (it's like Times Square, a very busy crossing and a lot of big screens and lights). Seats are placed in a way that permits you a clear view of the stage, no heads in front of you, regardless of where you're seating (photo 2). On my five times there, I've seated on 9th (3x), 16th and 17th rows (seats are assigned automatically on line) and although I'd much prefer a first row seat, I cannot complain from my view.





Prince of Broadway is an old style Broadway musical and it's just wonderful. It takes you throughout the numerous award-winning productions created by Harold Prince, who won astonishing 21 Tony Awards. It is sorts of an autobiographical musical. I don't know if there's plot linking the different acts (to make it easier, I'll call a group of songs from the same musical an act). There's a narration supposed to be Hal Prince but it was in Japanese. I was pleasantly surprised to find out that Ramin appears much more than I was expecting. And he dances... Yes, he CAN dance! He's not clumsy at all; he did a very good job, dancing just like those old Broadway and Hollywood musical actors. Very charming, as always.



The Overture fulfills its function to give you an overview of the show and you are immediately transported to another world. It's funny how the audience responds differently to the same show. My first impression was that Japanese people were more reserved than NY and London audiences. But on the last two performances, the audience was much more spontaneous and energetic, especially on the last day. People seemed to be blessed to be there. The last day was indeed a special moment shared between the cast and the audience. And so Prince of Broadway begins with "All I need is a good break" from Flora, The Red Menace. The entire company star on that song. The scenery changes to a baseball locker room for "Heart" and "Whatever Lola Wants" from Damn Yankees. Ramin stars as Smokey, one of the baseball players, in "Heart". He kind of changes his usual voice and sings with a more haspy voice which fits the character perfectly. The scenery changes again into a street alley for "Something's coming" and "Tonight" from West Side Story. Ramin is seating alone as Tony and starts singing "Something's Coming", convinced that something important is about to happen. That's when Kaley Ann Voorhees appears on a fire escape as Maria and they sang their love for one another in "Tonight". They have such a great chemistry on stage and one can totally believe they're in love. And the kisses look so real on stage. I read some comments from Ramin joking that he was too old for Tony but I think he's just perfect. He looks so young when clean-shaved and the baseball jacket gives him the right feel. Next comes "Tonight at eight" and "Will he like me?" from She Loves Me. No Ramin here as he was changing for the next act, "You've got possibilities" from It's a Bird, It's a Plane... It's Superman. Ramin enters the stage in all his full glory in a super super (really super) tight Superman costume (no padding at all, ladies! All his work out paid off, as we all know since his glorious and unforgettable Valjean). He brings down the Daily Planet scenery with the aid of a hope and leaves stage after flexing his chest muscles! Mariand Torres enters as Sydney and he comes back as super cute Clark Kent (I love him wearing glasses). He doesn't sing but his faces are so funny as Clark is attacked by Sydney. On the final performance in Tokyo, Clark granted Sydney in Japanese and he left the stage bowing just as regarded in Japanese etiquette. I guess Ramin gained the whole audience here! New change of scenery for "Beautiful girls"; "Waiting for the girls upstairs" and "The Right Girls" from Follies. You can hear Ramin singing "Beautiful Girls" from the wings. You can see it in a video posted on Josh Grisetti's Instagram. I understand now why he's singing shirtless. He was just in between costume changing from Clark/Superman to young Ben. Later he comes to stage in a suit, wig and glasses and sings as Young Ben in "Waiting for the Girls Upstairs". The next song is "Send in Clowns" from A Little Night Music and Ramin enters stage wearing a super formal tailcoat, bow tie and dancing a waltz. He's freaking hot! Then it's time for "If I were a rich man" from Fiddler on the Roof. Ramin appears briefly at the beginning dancing a Jewish style dance. New scenery change for "Wilkommen"; "If I could see her"; "So what" and "Cabaret" from Cabaret. No Ramin as he's again changing for the next act. And so it's finally Phantom time. I've never seen Ramin as Phantom live on stage so it was a dream I had for a long time, to see him wearing the mask. He starts alone on stage, his back to the audience, surrounded in a cloud of smoke. His costume is exquisite. He's wearing a tailcoat, a white silk damask vest with a pocket watch and an off white cravat with a pin. Not the usual ALW Phantom attire, but very Leroux. No makeup and no wig. I found the mask cheap though. It looks terrific on stage and it enhances Ramin's face so well, but on a close up look (I had my binoculars) it looks as cheap as the ones sold at Majestic and Queen's Theatre. I have to say I was a bit disappointed that "The Phantom of the Opera" was cut. He sings just a small part ("Sing once again with me, our strange duet. My power over you grows stronger yet. And though you turn from me, to glance behind. The Phantom of the Opera is there, inside your mind"). And then, he's gone as Kaley enters as Christine for "Wishing you were somehow here again". Some of us thought he would also play Raoul because of a POB publicity photo of unmasked Ramin behind Kaley taking off her cloak, but he does not. Just at the end of the song, Ramin comes back on stage and sings "The music of the night" (I don't know how he manages to do those Phantom hands, I'm irresistibly drawn to his hands). He sings it so differently from the 25th anniversary, the way he emphasizes some of the words. It was beautiful and it gave me the chills... Every day he just shook the theatre with his powerful vibrato on "let your soul take you where you long to be". The sustained "be" echoed like a thunder and it felt as if it lasted for a whole hour. I loved the easiness in which he catches Christine in his arms, then sights with his eyes closed savoring the moment and also his gentleness when he places her on the floor over her cloak, kissing soundly her hand in between singing (even out of Les Mis he's still carrying people around the stage). Ramin has so much to give to Phantom, it's a pity he does not want to play it again... POTO is the last act before intermission.



The show resumes with "Company"; "Ladies who Lunch" and "Being alive" from Company. Ramin plays Robert (Bobby) and is the main character on all the songs, although he doesn't sing on "Ladies who lunch" (he's part of the dialogue though). Ramin's rendition of the well-loved bachelor Robert was a pleasant surprise and the highlight of the show for me. I said more than once that I find Ramin's acting process astonishing and am amazed how he gets so easily into character. Everything changes, his posture, his mannerisms, his hands, his facial expressions. Ramin is a natural! And he stays into character. When drunk Joanne (Emily Skinner) sings "Ladies who lunch" for Bobby, his expressions change just accordingly to what's being sang. Not for a single second he seems to falls out of character. At the end of the song, Joanne invites Bobby to begin an affair with her, assuring him that she will take care of him. He replies "But who will I take care of?". He's lost in contemplation when starts singing "Being Alive" as his friends leave him one by one, alone on stage. You can totally feel his emotion as the song develops in a ironically tone stating his fears in committing to finally admitting his need for loving intimacy, first singing softly and then with anger ("Make me confused, Mock me with praise, Let me be used, Vary my days. But alone is alone, not alive") and at last with a painful urgency ("Somebody, crowd me with love, Somebody, force me to care, Somebody, make me come through, I'll always be there, As frightened as you, To help us survive. Being alive, Being alive, Being alive"). His rendition was so powerful it moved me to tears all the times. I'm still hearing it in my head! Just spectacular! He's such a great actor. I'd love to see him playing Company! It was my favorite act in POB. After Company, came "Lovely" from A Funny Thing Happened on the Way to the Forum. It was good that Ramin was not in it, because I was still recovering from the "Being Alive" impact. The scenery changes again for "Buenos Aires"; "A New Argentina" and "Don't Cry for me Argentina" from Evita. Ramin sings "A New Argentina" as Che . It was brief but I loved seeing him as the bearded Che (so different from the Che portrayed by Ricky Martin). I've read he was supposed to play Che on Broadway but something went wrong and he was cast as Valjean instead. Maybe Evita was not short-lived if he was Che. But then, I can't imagine not having his Valjean engraved in my memory. Next is a pot-pourri of songs ("Broadway Baby" from Follies, "Times Square Ballet"; "All I Need is One Good Break" from Flora, The Red Menace, "Gentleman Jimmy" from Fiorello!; "Little Old NY" from Tenderloin and "It Must be the Place" from Grind). Ramin appears in a black suit dancing with the girls in 1920's costumes in "Gentleman Jimmy" (He's the only man here and is just perfect). He comes back singing and dancing in "Little Old NY" (in black pants, striped shirt, vest, blow tie and a bowler hat) and "It must be the Place" (blue pants, a plaid pattern suit and a top hat). He seemed to be having such fun! At the end of the pot-pourri, he comes back on stage once more as a reporter/photographer. New change for "Now You Know" from Merrily We Roll Along followed by "This is not Over Yet" from Parade. I wish Ramin was singing it, since he was on Parade in Concert last February. New scenery for "Dressing Them Up" and "Kiss of the Spider Woman" from Kiss of the Spider Woman and then comes "The Worst Pie in London"; "My Friends" and "The Ballad of Sweeney Todd" from Sweeney Todd. Ramin appears briefly in a heavy coat, scarf and hat on the first song and sings a little bit on the end of the last song. Next comes "Can't Help Loving That Man" from Show Boat (no Ramin) and the final song that closes POB is "Wait Til You See What's Next" (a new song composed for POB). Ramin seems to be the main in here, he starts singing it alone on stage and then the rest of the cast join him on stage one by one.
Ramin looked truly pleased during all curtain calls. His eyes were always sparkling and he had a broad smile on his face. On each day he gave the audience something special during curtain call, but on the final performance it was really his grand finale. First, the audience responded with much more energy. The cast got 18 solid minutes of standing ovation from the end of "Wait til you see what's next" to the end of curtain call. They had to come back on stage because at the end, even though the theatre was announcing the instructions for exiting (or something like that, since it was in Japanese) not a single soul moved from their places and just kept applauding for about 2-3 minutes (lights up and curtain closed) until the cast came back on stage. Ramin was the first one to come and the applause was just deafening. Shuler Hensley came back with a camcorder. Ramin took a selfie with the audience. Most of the cast made speeches in Japanese. Ramin laid down on the floor and sent kisses to the audience while the curtain was coming down. And during all the time, the applause kept going. It was a special moment and I'm sure the cast will remember Tokyo forever. I'm so happy that I was able to come to this wonderful country and see Ramin in POB."
Here's two videos from the curtain call (the videos/pics only during curtain call were previously authorized by the theater)
HERE
&
HERE
.
And check out Andrea's exclusive pics:
(click to enlarge)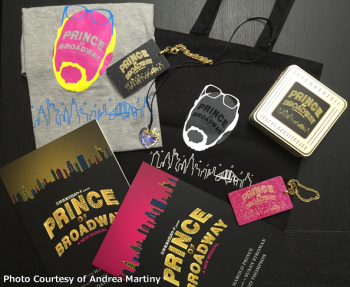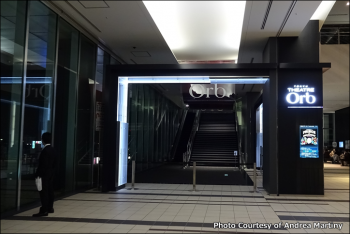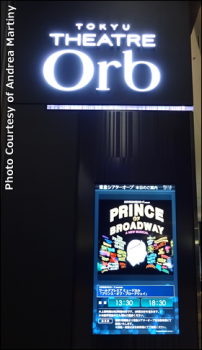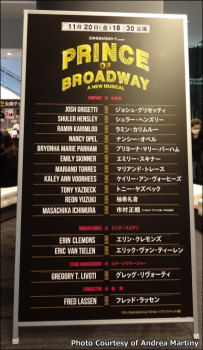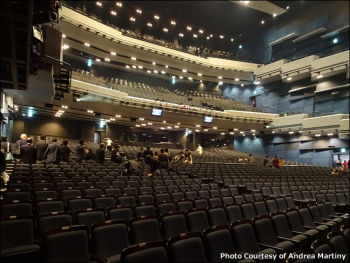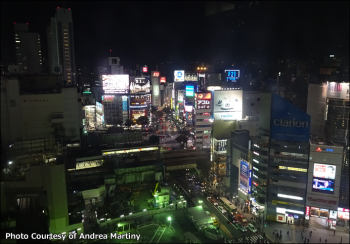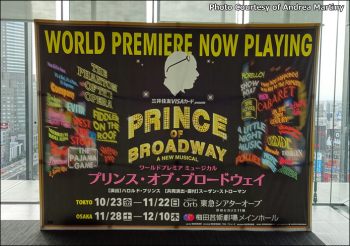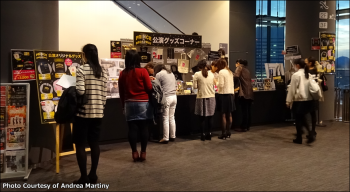 Thank you SO much Andrea for sharing these special moments with us! And thank you for being so kind and supportive! And once again, THANK YOU for the amazing gift you gave to me!
Tomorrow (10) is the final performance of "Prince of Broadway" in Japan.
HERE
you can see all the official pics and videos from the show.